09. Dezember 2023
Stadthalle Saarburg
Das Konzert der Vorweihnachtszeit mit der Big Band "Art of Music" ist zurück!
15.000 Konzertbesucher haben in den letzten Jahren die Show bereits besucht,
80.000 Euro Reingewinn für den guten Zweck konnten akquiriert werden
und am 09. Dezember 2023 gastiert EMOTION zum ersten Mal in der Stadthalle Saarburg.
Auf Einladung des Lions Club Saarburg präsentiert die Big Band unter dem Motto "Art of Music presents Great Ballads & Love Songs"
mit diesem Abend und ihrer mitreißenden Broadway-, Soul-, Pop- und Hollywood-Gala ihr finales Konzert im 30. Jubiläumsjahr von Band und Club.
"Art of Music" ist längst zum Klassiker in der Konzertlandschaft der Großregion aufgestiegen.
19 Musikerinnen und Musiker – unter der Leitung von Christian Botzet – sind es, die dem Klangkörper in drei Jahrzehnten
ein unverwechselbares Profil verliehen haben und sie sprengen längst jene Dimensionen,
die von Amateuren gemeinhin erwartet werden können.
Freuen Sie sich auf ein exklusives Programm und eigens zu diesem Abend eingeladenen Gästen und lassen Sie sich vom Ensemble in die Welt der Balladen
und Lovesongs aus Pop, Soul, Musical und Filmmusik entführen.
Eindrucksvoll in Szene gesetzt durch eine stimmungsvolle Sound-, und Lichttechnik.
Als musikalischer Gast wird neben musikalischen Größen der Region, wie der erfolgreichen Sängerin und Entertainerin Shirley Winter, Sänger
und Gitarrist Werner Hertz, Sänger und Songwriter Daniel Bukowski, Trompeter Markus Stoll
auch die großartige Kerstin Bauer an diesem Abend als Solistin auf der Bühne stehen.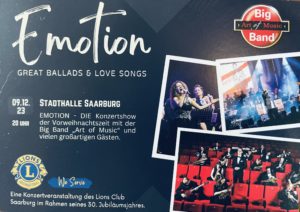 Tickets für den 09. Dezember 2023 erhalten Sie
in allen VKK-Stellen von Ticket-Regional oder online.